The Best Way to Find Best Pasta maker: The absolute Guide
Picking the best product for any task sometimes can be a major challenge. You will have to consider factors like price, popularity, and positive reviews to ensure you don't end up with a low-quality product. When it comes to pasta makers, picking the best one becomes even more complicated. Nowadays, most people prefer to make their own homemade pasta as opposed to industrially produced pasta since it promises a healthier lifestyle. Considering the increasing popularity of pasta makers in different homes, the search for the best pasta maker keeps getting intense. Fortunately, in this article, we will be analyzing pasta makers and finally, recommend one of the best pasta makers out there.
When purchasing a new pasta maker it is only right for you to understand what you are looking for, considering a number of lousy products out there. A low-quality pasta maker will have a very short lifespan and will present a lot of inconveniences when making the pasta.
There are numerous pasta makers on the market out there with different configurations, sizes, and prices; however, pasta makers are majorly classified into either manual or electric pasta makers. First, let us discuss both categories extensively:
Manual pasta makers: Rollers & Cutters
Manual pasta maker designs are usually quite old and don't have any general major variations. A standard manual pasta maker has four different parts:
– The rollers
– The cutters
– The regulating knob
– The manual handle
Every manual pasta maker must have all these four components to actually work. The handle gets rotated with the hand, putting the cutters and rollers to work. In turn, the rollers will flatten the pasta dough while the cutters slice it up in your desired shape. The regulating knob is meant for reducing the pasta's thickness by altering the proximity between the rollers.
A classic pasta maker can handle the longer types of pasta such as fettuccine, spaghetti, pappardelle, lasagna sheets, and angel hair perfectly. The more adventurous pasta sorts like ravioli can be made using a pasta cutter or, obviously, a ravioli stamp.
Manual pasta machines are ideal only if you are not going to be making pasta regularly every month since it needs quite a lot more effort than an electric pasta maker. If you will be making pasta regularly, then you should simply stick to electric pasta makers over manual pasta makers since they will save more effort and time.
Manual pasta roller brands
There are lots of brands out there for manual pasta makers; however, I will recommend either CucinaPro or Marcato. The pasta makers from these brands have proven their worth over time and apart from their high-quality status, they are also manufactured in Italy; the home of pasta.
Electric pasta extruders: Mixing & Extruding
Now here comes the modern type of pasta maker; the pasta extruder or as popularly called – the electric pasta makers. These types of pasta maker use shaping discs in place of cutters or rollers. The shaping discs help to pass the dough through and sometimes even mix the dough in a special mixing compartment for you.
While manual pasta makers are capable of making only long pasta such as lasagna sheets and spaghetti, electric pasta makers or extruders can as well make round-shaped pasta like penne. In that sense, electric pasta makers delimit you to the types of pasta makers you can make. Ravioli, as usual, can only be made with a pasta cutter or ravioli stamp.
For people who plan on making pasta on a very regular basis, electric pasta makers are probably your only choice; except you want to waste your time and efforts. Using these machines is really easy since it automates most of the work you will normally do with your hands. The more you make pasta with an electric pasta maker or pasta extruder, the more you'll continually love it.
And now, the moment we've all been waiting for;
The best pasta maker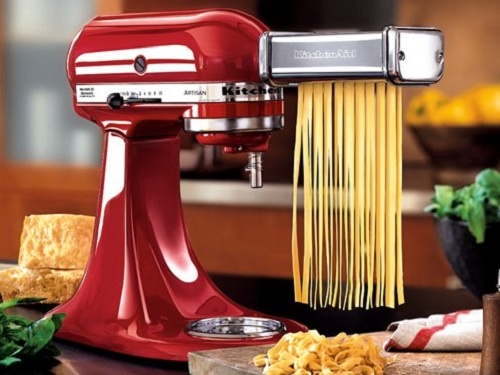 While some pasta makers might perform better than other pasta makers when comparing in relation to a specific factor, the best pasta maker should be good in every considerable factor. However, based on my experience, research, and findings, I have come up with – if not the best – one of the best pasta makers out there. Now even though this is based on my opinion, anybody who has used a lot of pasta maker will surely support my recommendation for its validity.
Kitchenaid KPRA Pasta cutter and Roller is my recommendation for best Pasta Maker.
Making pasta according to the traditional process is usually a daunting task: First, you mix it with a food processing machine, roll out with a pin then cut with a pizza slicer. Normally, a pasta roller will make everything much easier; however, it all depends on the type of roller you use. Most manual pasta makers make the process tiresome since you will need to regularly twist the crank arm for the rollers to have an effect on the dough. But with a wonderful pasta maker such as the pasta roller from Kitchenaid, it becomes very easy. This really great pasta maker handles the crank, stands very sturdily and can easily be cleaned. What's more? The three cutters in this pasta maker can make many different types of pasta.
Pros of the Kitchenaid pasta maker
– Makes very thin dough
– It is quite easy to clean
– Guarantees more consistent pasta
– Saves your hands from working the manual shift by handling the dough for you. Simply put the dough on top; you don't need to draw it through.
– Attaching and detaching compartments in the pasta maker is quite easy.
– It is quite stable and sturdy.
Cons of the Kitchenaid pasta maker
While the Kitchenaid KPRA Pasta Roller and cutter is an ideal choice, it also comes with some minor cons (that can easily be sorted out). They are:
– The thickness configuration might not always be in line with the right marks on the adjusting handle. However, simply rolling the adjustment wheel around a few times handles the issue.
– You might need to forego some of your dough to clear the pasta machine at the first time you use it.