Weston Roma 6 Inches Traditional Style Pasta Machine: Durable, Versatile and Affordable
You have probably heard about various models of pasta machines and must be wondering what to consider when shopping for the best pasta machine. Well, this will depend on a lot of things. It will depend on your experience with pasta machines, pasta making skills, suitability of the machine, productivity, and durability.
The final and most important factor that many shoppers consider, however, is the price. The Weston Roma 6″ Traditional PastaStyle Machine offers all that and much more, at a very reasonable price.
When I first read various pasta machine reviews, most of the results were contradictory and confusing. Again, most of the pasta makers were expensive, fancy and promised everything. Then I began to seek answers for some questions! For example, what would you do if you splashed about $100 on a pasta machine that you do not end up using? What if you find yourself with similar problems as the other reviewers?
I made up my mind to order Weston Roma 6″ Traditional PastaStyle Machine. So far, I have not been disappointed! Take a look at the results of my findings and experience with this kitchen equipment.
[wpsm_comparison_table id="6″ class=""]
Main features: Wide Rollers and a Double Cutting Head
The machine boasts of wide rollers and a double cutting head. The wide rollers, capable of producing 6 Inches wide of pasta, have an adjustable thickness. It can, therefore, produce seven different pasta thicknesses ranging from 0.25 mm to 3.18 mm. This makes it possible for the machine to produce any desired pasta thickness by easily turning the rollers.
The additional cutting heads can make any type of pasta. This makes it possible to make and enjoy delicious angel hair, linguini, spaghetti, fettuccine, and lasagnette, lasagna, vermicelli, half moon and square ravioli varieties. With an additional shape attachment, you have the chance to experience various tastes of pasta in many appealing shapes depending on your choices and preference.
Great Performance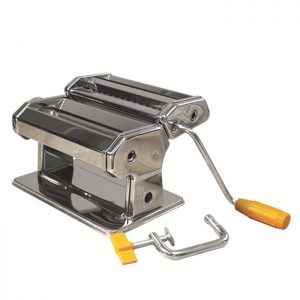 Performance is another important consideration when shopping for a pasta maker. While the machine does not jam up frequently, it is capable of taking up the well-kneaded dough of any ingredients and produce pasta of the desired thickness, width, and shape. This is a feature that is lacking in many pasta maker machines.
The Weston Roma 6″ Traditional Style Pasta Machine has a remarkable output. Its gears, fabricated and positioned in line with the current technological advances, efficiently turn the rollers to make quality homemade pasta. The machine also comes with a well fitting hand crank with a comfortable hand grip. The hand crank, rollers, and the gears work complementarily to produce enough torque for rolling the dough.
Solid and Sturdy
Mainly constructed of solid stainless steel and metals, the machine has adequate strength and stability. The stainless steel is noncorrosive. This makes it resistant to rust and other corrosive chemicals. More importantly, the solid stainless steel that makes the frame and rage body of this machine do not tarnish or scratch easily. This makes the machine durable.
Pasta machines need a lot of stability to be productive. In many cases, a strong metallic frame and body are not enough to counter the turning effects of continuous cranking. That is why the Weston Roma 6."
Traditional Style Pasta Machine has a c -clamp to attach it to a solid surface. The clamp is adjustable, so you do not have to worry about the thickness of your countertop.
Tested and Approved For Safety
As a heath requirement, all food preparation products require testing and approval from reputable health associations or bodies. Well, Weston 6 inch pasta machine meets and surpasses all the requirements.
Stainless steel, which is the main material used in carving out this machine, is considered safe for food preparation machines and equipment. This guarantees that no toxic chemicals or harmful elements get into your pasta. Ease of cleaning food preparation machines and is another health and safety measure that buyers consider. The Weston Roma 6″ Traditional Style Pasta Machine is easy to clean and maintain.
Easy to Setup
This pasta maker machine requires assembly. However, this is not a difficult task and will take you just 5 to 10 minutes to have it assembled. Through the available instruction manual, anyone can learn to remove and reattach the hand crank, the rollers, and even the gears. There are no tools required to do any of these which means that you will not need a technician or tradesman.
Basically, detachable pasta machines are easier to clean hence more hygienic. It is, therefore, easy to detach the rollers, clean the machine and reattach the rollers. The hand crank is also easy to remove and reattach. The instruction book also gives you directions on how to use the machine. This means that there is no chance of buying the machine and ending up not using it.
Pros
Affordable
Versatile
Easy to clean
Reasonable price
Available in stylish silver finish
Cons
Nonelectric
Recipe book not well detailed
FAQ
Q: Can I use the machine just to roll and flatten dough without cutting?
A: Yes. The roller is separate from the cutting blades.
Q: What is the common setting for most recipes?
A: The settings carry according to your ingredients, and what you intend to make. However, most recipes are best with the third and fourth settings.
Conclusion
If you are not familiar with pasta maker machines, you may be undecided on how much money you should spend in one. Anyway, why would you buy a high-end professional pasta maker and end up not getting the best out of it? Weston Roma Traditional Style Pasta Machine is affordable, versatile and easy to use.
This product is ideal for low and medium spenders who still want to enjoy homemade pasta from a productive and effective machine. It is also a must buy for starters who still are not sure of the results of owning a blender. You will get addicted to it and an affordable price; you will enjoy the freshness of homemade pasta.