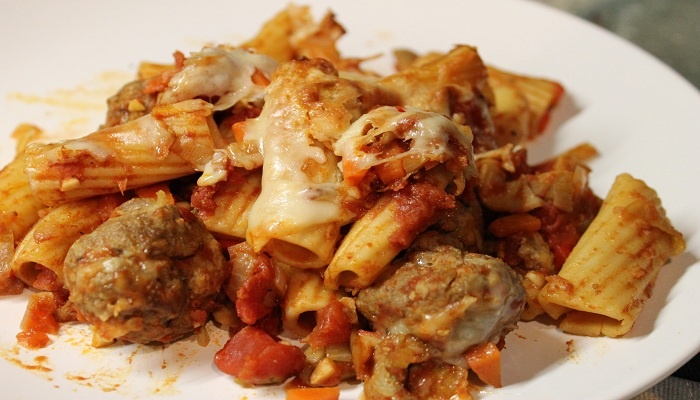 Baked Rigatoni with Poultry or Beef Meatballs Recipe
Serves/Makes: 6 servings
Ingredients:
2 tablespoons olive oil
1 onion, chopped
2 cloves garlic, minced
3 cups cleaned freshy sliced mushrooms
1 green pepper, membranes removed and seeded, chopped
2 teaspoons basil
1 teaspoon oregano
Salt and pepper, to taste
2 tablespoons water
1 (28-ounce / 796-mL) can stewed tomatoes
1 (5 1/2-ounce / 156-mL) can tomato paste
3 1/2 cups rigatoni pasta noodles
1 1/2 cups grated Mozzarella cheese
1/4 cup grated Parmesan cheese
   Meatball Mixture
1 egg
1/3 cup chopped onion
1/4 cup dry bread crumbs
2 cloves garlic, minced
3 tablespoons grated Parmesan cheese
1 teaspoon oregano
Salt and pepper, to taste
1 pound ground turkey (chicken or beef)
How to cook Baked Rigatoni with Poultry or Beef Meatballs:
For the meatballs, into a medium bowl, slightly beat egg before mixing in chopped onion, dry bread crumbs, minced garlic, grated Parmesan cheese, oregano, salt and pepper until combined.
Mix in ground turkey (chicken or beef).
Shape mixture into small meatballs using a heaping tablespoon mixture for each meatball.
Set aside.
Heat olive oil into a large skillet.
A few at a time, brown meatballs on all side; remove from skillet.
Drain excess fat from skillet before adding chopped onion, minced garlic, mushroom slices, chopped green bell pepper, basil, oregano, salt and pepper.
Stir in water.
Cook over medium heat for approximately 10 minutes, until vegetables are softened.
Stir in stewed tomatoes with juice, tomato paste and reserved browned meatballs.
Leave to simmer for 30 minutes.
Meanwhile, boil rigatoni pasta noodles pasta noodles until "al dente", soft yet still a little crunchy.
Preheat oven to 400°F (200°C).
Drain pasta noodles.
Add drained pasta noodles to meatball mixture stirring until combined.
Pour into a 2 1/2-quart (10-cup) casserole dish.
Sprinkle mixtrue all over with grated Mozzarella cheese, then with grated Parmesan cheese.
Bake into preheated oven for 20 minutes before serving.
This recipe for Baked Rigatoni with Poultry or Beef Meatballs serves/makes: 6 servings