How to make pasta with a pasta machine
If you the best pasta maker, then you will enjoy creating homemade pasta with an automatic pasta machine that will be worth the work as you will be able to create healthy pasta for your family and even coming up with your own fresh pasta recipe for a pasta machine. Your pasta will not have additives and you can even choose to create different colored pasta by adding vegetables to your pasta dough such as beet puree to create a reddish or pink hue to your pasta.
These instructions are for the hand crank pasta machine instead of an automatic pasta machine or commercial pasta making machine. If you have one that you do not have to crank, then you can skip some of the steps. Of course, you may have purchased the best electric pasta maker that does all the mixing of the dough and even cutting the pasta as long as you use the right disc's to create the type of pasta you desire such as angel hair, spaghetti, or lasagna noodles.
If you want to create the healthiest pasta you can use this recipe for your pasta dough.
Pasta Dough Recipe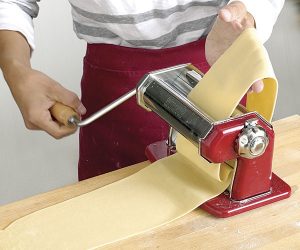 You will need two and one-fourth cups of all-purpose unbleached flour or whole wheat four, three organic eggs at room temperature, just a pinch of sea salt, and either more flour or organic cornmeal for dusting the disc and your hands.
Place the flour in a hill shape on your workspace and create a hole in the center and make sure the sides are high enough to hold the ingredients so they do not flow over the flour. Place the eggs into the hole along with the sea salt.
If you do not have an automatic pasta machine that mixes the dough and feeds it into the fork, but one that you have to hand crank to make your own pasta, then you will need to gently mix the eggs slowly adding a bit of flour at a time until you get the right consistency. You do not want the pasta dough to be too sticky or too dry. You may have to add more flour or water to ensure you have the correct consistency.
If you have purchased the best pasta maker, you will not have to mix the dough or knead the dough as the maker will make it easy to create homemade pasta with the machine. If not, you will knead the dough until it is elastic and smooth. The next step is to cover the dough in plastic and let it rest for twenty minutes.
Divide the dough and create four different pieces. While you are using one of the pieces of pasta dough remember to keep the other ones covered in plastic. Once you have pressed the dough into a long rectangle shape you can start feeding the dough into the rollers. Feed your pasta dough until you get the right thickness for the type of pasta you desire if you have a hand crank machine. You can turn the dial on your machine and it will make it as thin as you desire no matter what type of maker you have for making pasta with a pasta machine.
When you have the pasta the right thickness, you then add the disc that will help you make pasta that you desire unless you desire filled pasta like ravioli and you will need a ravioli cutter. All you have to do is feed the dough through the pasta maker. Of course, if you have a commercial pasta making machine, you will not have to do all this work as these are the best pasta makers as they actually do all the work for you from mixing the pasta dough and feeding it into the machine. All you will have to do is place the pasta on a drying rack.
If you have not purchased your pasta maker yet but are reading this article to decide if how to make pasta with the machine is really worth the work. The answer to this question is dependent on the type of best pasta maker you purchase. There are many different styles and sizes all with different features and attachments and of course, the pasta machine price will be different.
The best way to help you make a decision on which pasta maker is truly the best pasta maker is by reading pasta machine reviews ratings by others that have purchased the machine and created their own fresh pasta recipe for a pasta machine. You can learn what consumers had to say about the way the pasta maker worked, if it was easy to use and if it was easy to clean. You will also learn how durable the different pasta makers are by reading pasta maker reviews.
You should also read all the specifications from the manufacturer to ensure that you can purchase other attachments that will give you the freedom to create all the various types of pasta your family enjoys such as spaghetti, penne, or filled pasta. You do not want to make a mistake and purchase an industrial pasta machine when the one that would provide you with exactly what you needed was the Kitchenaid pasta maker.
To be honest, the best pasta maker is the one that will allow you to create all kinds of homemade pasta with a machine. No matter which pasta maker you purchase you should be sure to read the instructions on how to use the pasta machine. This way you will not start making pasta and get half way through the process and then not know what to do next.
Once you know how to use your best pasta maker, you can create your own fresh pasta recipe for a pasta machine or go online and find recipes to make your own pasta. There are so many different recipes online that you are sure to learn quickly how to add other ingredients to the pasta dough to make several yummy pasta dishes for your family.